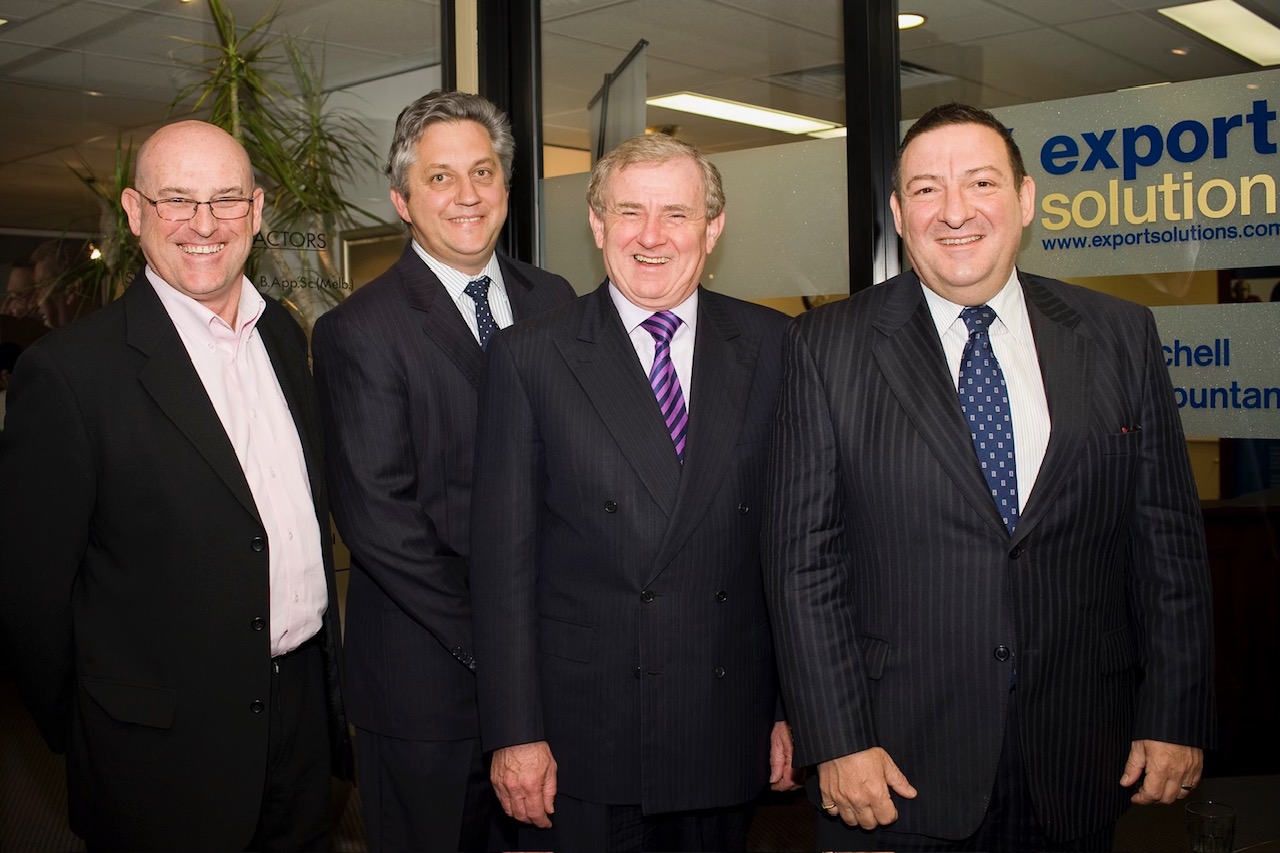 Our newsletter is produced below.
Vale to Simon Crean. A great Australian.
The photo above is from 2009 when Simon was Australia's trade minister. We took the photo opportunity at the time with the Minister and local Fed MP Steve Georganas when they paid us a visit at our office in Gawler Place.
Stuart is much greyer and fatter these days, Wayne's non-existent hairline is unchanged.
June EMDG newsletter 
Stuart's Holiday
Yes, we are back from our overseas trip to see our son in the UK and then some meanderings through Europe. We were there for King Charlie's big day – bit of a wash out I might say.
Highlights include lost baggage (found a week later) on the way over and a bad case of kidney stones for me on the flights back. All good now!
Vale Simon Crean
Simon Crean passed away on Sunday in Germany, from all his other achievements, including being just a nice person was Australia's 46th Trade Minister from 2007 to 2010.
He understood the impact of the EMDG program in helping exporters and was a great supporter of it.
I have met all Trade Ministers (bar one)  since Tim Fischer back in 1995.
Simon was the one of the best for sure.
I met him a number of times including a visit to my office in Gawler Place.
At another meeting he even found out it was my birthday, so he wished me well on the day – no cake, but it was very funny at the time, and I remember it most fondly.
Now back to EMDG!
EMDG and the May Budget
EMDG funding has been reduced in future years (per the budget forward estimates), however the impact will not come into play until 2025/2026, the EMDG funding in that year will drop to $110M.
All current Round 1,2 and now 3 grant offers are unaffected and will be paid as promised.
The impact of the budget reduction will be felt on the scheme rules and parameters for Round 4 and beyond.
EMDG Review to happen in the coming months.
To tie in with the advice of Minister Farrell to align the EMDG program to government trade policy, EMDG is to have a review in the coming weeks/months (not another one, I hear you groan).
Submissions will be called for and surveys requested. We will be touch then.
It's not going to be an "alignment" with trade policy, but reduction of access/payment rules to align with the reduced funding indicated above.
Watch this space we will be in touch when things start to happen.
EMDG Round 3
The cap on the grant offers for Round 3 have now been announced and grant offers are now starting to be issued.
The cap figures being: –
• Tier 1 – $12,000
• Tier 2 – $20,000
• Tier 3 – $30,000
• Tier 4 – $45,000 (representative bodies)
The above sums are similar to Round 2 offers, but are still well below the promised maximum grant amounts that the EMDG program is supposed to offer.
Grant offers are being sent out today and the coming weeks. We will send you a covering email to tell you what you need to do (MyGovID access and the like). You must accept the grant offer agreement; we cannot do so on your behalf.
Any problems reach out to me per stuart@mitco.com.au or 0439 859 199.
Round 1 and 2 – 2023 Milestone submissions
The lodgement window for "milestone reports" required as part of the EMDG process has been set – 10th of July to 31st October 2023.
This is longer than last year to account for the two rounds of milestone reports, some $7,500 applications to be processed by Austrade.
If you were prepaid your grant offer in the last month (about 25% of clients) we still have to do your milestone report for you. If you were not prepaid, we are preparing your milestone report to get your grant paid.
We have already (well Wayne has!) been working on the information that is required to be submitted for the report. We cannot lodge until the portal opens on the 10th of July, but we are on the starting blocks already.
We have a pretty simple message here, lodge your milestone report early, you will be paid early.
If you lodge in late October, you will not see any money till much later – Xmas and the holiday period getting in the way.
Trust us, we are working to submit your milestone report ASAP for you.
Cheers,
Stuart & Team